Flights
My wife and I decided to take a last minute trip to Israel since we just got a large infusion of Delta miles from getting Amex Premier Rewards Gold Cards with 75,000 membership rewards points and American Express Platinum Cards with, potentially, 100,000 Membership Rewards points. These were further amplified by a 50% bonus when transferring from Membership Rewards to Delta. We only needed to use 80,000 of these points each for our very convenient flight. We took Air France from Boston with a short stop over in Paris then directly to Ben Gurion Airport in Tel Aviv. On the way home we flew from Tel Aviv to Paris with a romantic 24 hour stop then right to Boston.
Tel Aviv
We had a great time in Tel Aviv, but only spent two days there. We stayed at the Renaissance Hotel (Detailed Review: Renaissance Hotel Tel Aviv).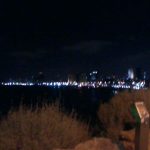 We had a good time in the city but only had 2 days. Along with walks along the beach and gallons of hummus and frozen yogurt, we had time for:
– Jaffa/Yafo – the old city. Really beautiful. We walked around it at night. Worth a look. We drove, but appears to be a 30 minute walk or so down the beach from the big hotels.
– Diaspora Museum at Tel Aviv University. We walked from the hotel (don't believe people when they say it can't be done, but it does take a good hour). Fairly interesting, but not necessarily a need-to-see
– Nevet Sedic – This was a great place at night with some interesting history. Tons of old small buildings and really nice looking restaurants.
We also got to see two of my friends from business school and my wife's cousins that lived in a nice neighborhood in the north of Tel Aviv.
From Tel Aviv we took a bus to Jerusalem. This was very easy. We took bus #480 from the Arlozorov bus station closer to our hotel. It was a very reasonable price, seemed to leave constantly and only too about an hour and a half with traffic directly to Jerusalem's Central bus station.
Jerusalem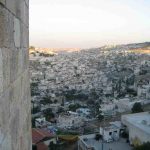 Wow, what a place with such history. I won't get into the city too much since I'm sure you can learn a lot more from wikipedia, just a bit about our visit. We stayed at the Jerusalem Hostel in Zions Square which we highly recommend.
After checking into the hostel, we took the Western Wall Tunnel Tour (Detailed Review: Western Wall Tunnels).
The following morning we took Sandeman's Holy City Tour (Detailed Review: Sandeman's New Jerusalem Tours (Holy City & Free)). We also did the South section of the Rampart's Walk.
The next day we started with Sandeman's Free Tour which was good, nut not as good as the Holy City Tour. We cut out a bit early and walked up the Mount of Olives. It was a pretty easy walk, maybe 20 minutes up. You certainly don't need a bus if you are in decent shape. You may need a map, though, you basically exit by one of the gates below the Temple Mound into a Muslim section of the city, cross a street and then start walking uphill. After that we took the North section of the Rampart Walk along the old city walls back to the Jaffa gate. It was fun to be above everything, but my wife got a bit dehydrated by the end of the day. REMEMBER TO DRINK LOTS OF WATER!!
On the way out of Jerusalem I had a very bad experience with Avis's licensee. You can read more about that here.
Dead Sea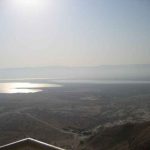 From Jerusalem, we headed on route 90 to the dead sea. Route 90 goes through what was/is (depends on who you ask) the West Bank. It is clearly under Israeli military control and we felt fine, but others would advise against its use.
We stayed at the Le Meridian (Detailed Review: Le Meridian David Dead Sea Resort), a good place for the money in the off season.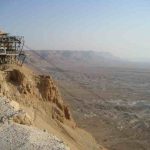 Our first morning we went to Masada. It was fun. Fit adults could probably walk up in 15 minutes, but leave 30+ for a family or in the hot sun. You can start walking 1 hour before sunrise, so it is worth getting up early. We started at 7:30AM, a tad late, but the heat was still manageable. They have a water bottle filler at the top that is free, cold and tastes great — use it! It may have been more interesting to arrange a tour of the top since there seems like there is a lot of history to see. There is also a tram if you have trouble walking but that doesn't start until 8am.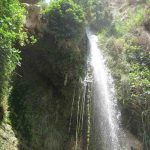 The next day we went to Ein Gedi after breakfast. We didn't have a lot of time since we had to get back for check out, but we walked up to Wadi David (King David's favorite spa) and a bit past it.
The Dead Sea is something to try once, but I wouldn't bother going back. It is fun to float on top of the water, but note that it may start to sting after 10 minutes. You may not enjoy it if you have cuts or dunk your head. People say not to swim on your stomach. It was certainly uncomfortable to do so, but doesn't appear to be dangerous unless, maybe, you are a very weak swimmer. Also, don't believe the myth that you can't can a sunburn on the Dead Sea. It can happen.
Nehora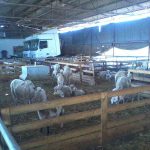 From the Dead Sea we went to a small town called Nehora to stay with my wife's uncle's family. We had a great time with them taking a break from tourism. We did a lot of eating (his wife is a wonderful cook), running and sitting by the pool. We even got to visit their in-law's farm nearby.
Upper Galilee / Golan
We then drove from Nahora to Nazareth for lunch. That was a mistake since it was a Sunday and Nazareth is pretty closed down, so we did a quick walk up to the top of the hill, had some food and continued on the Safed (aka Tzfat). We stayed at the Safed Inn Safed Inn which we loved (Detailed Review: Tzfat Inn). We spent some time in the historical part of Safed, it was really nice. The next day we went to the Yehudiya Nature Reserve. We did a great hike where you had to swim in the middle. It was lots of fun (Detailed Review: Yehudia Nature Reserve).
The next day we headed back to Ben Gurion Airport (TLV) for our flight to Paris after stopping for a nice breakfast in Rosh Pinna.
Dave DAVE'S ADVENTURES
Dead Sea Ein Gedi Galilee Golan Heights Israel Jerusalem Mosada Nehora Tel Aviv TLV Travel
Dialogue & Discussion