Le Meridian David Dead Sea Resort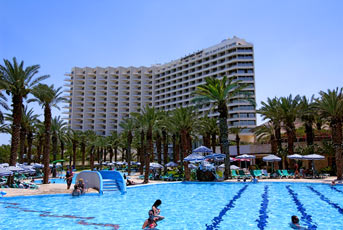 We stayed at Le Meridian David Dead Sea Resort for two nights in early July of 2011.
A lot of reviews you may read on Trip Advisor or other sites are too harsh. It is not a 5 star hotel, but a solid 4 star. For the money it is certainly a very good deal. In July (off season), rooms were US$125/night including a very good buffet breakfast for all occupants. Alternatively, you can book some nights for 3,000 Starpoints each. American Express is offering up to 25,000 points (10k + 15k after spending $15k in 6 months) for the American Express Starwood Card until 8/22/11, so that is 10 nights on the dead sea (see my review of the Starwood Amex here). Do note that the room won't include breakfast when using points and, Starwood doesn't make this obvious.
A lot of internet reviewers seemed to not like the other guests. They didn't bother me, though we didn't have an opportunity to socialize with them. There seemed to be a lot of families speaking slavic languages.
The main pool was pretty good though a bit crowded. The dead sea water pool (indoors and out) was nice too, but note they don't allow children. The gym had an ok verity of equipment but it was pretty old and somewhat low end. Defiantly below Meridian standards, though better than an old Marriott or Sheraton gym. It also seems to have somewhat limited hours.
As mentioned, their breakfast buffet was very good. It had a western salad bar (i.e., lettuce and large pieces of vegetables), an Israeli salad bar (finely chopped veggies), a cheese bar, a bread bar, coffee (though I couldn't find decaf), tea, a soda station (not sure if they charged for soda, but I would guess not), made-to-order omelets, hard boiled eggs, a type of prepared egg (often quiches) and a bunch of other stuff that didn't interest me. They also have a dinner buffet that looked good from a distance, but, if I recall correctly, is expensive. We had an a la carte dinner at their bar which was very reasonably priced.
One surprise was that many of the customer facing staff didn't speak much English. It would be arrogant for American such as myself to expect the world to speak English (though many do), it is just strange for such a high level hotel not to have more English speaking staff. It was even more surprising that many of the staff didn't seem to speak Hebrew either.
Oh, and make sure you check out your room before you unpack. Our first room smelled like smoke. The front desk claimed it was a non-smoking room, but all the non-smoking rooms happen to still have ash trays in them. Hmmmm. Certainly one of the things that seemed a bit shady.
All in all, if you are paying under $150 for a room, it's a steal. If you are paying $500, you may be upset.
Mobile Post Ein Boqeq
Dead Sea, 89680
+972 (8) 659 1234
Dave SUBPOST
Israel Le Meridian SPG Starwood
Dialogue & Discussion