Starwood AMEX Review – 25,000 Starpoints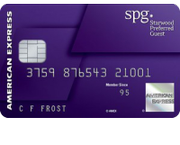 August 2015 Update: since writing this article, the point value has been a degraded somewhat. Internet consensus is about 2.5 cents per point. Also, the annual fee went up to $95. On the plus side, they added free Boingo wireless(Current Cardholders Register Here, removed foreign transaction fees, added premium in-room internet and, for the business version only, gave access to the Sheraton club lounge
Earn: 1 Starwood Preferred Guest point per dollar spent (2 points at Starwood hotels). I value Starpoints at about 4 cents for my use, though may be worth 2-3 cents for a more budget oriented traveler (see my analysis below).
Starwood points can be converted into Airline points (e.g., American) with a 25% bonus making this card clearly superior to all of the Airline cards. Even better is to use the points on Starwood hotels. There are no blackout dates, capacity controls, usage fees or taxes. I find that you get the most out of them for use last minute at hotels in expensive cities or for the most demanded dates of the year.
Examples (amounts are per night including tax):
This weekend at the Element in Times Square NYC. 12,000 points per night or $461 AAA rate (3.8 cents per point)
The Park Lane Hotel in London in Mid-June. 16,000 points per night or $677 AAA rate (4.2 cents per point)
Christmas Week at the Sheraton Fort Lauderdale Beach Hotel. 7,000 points per night or $256 AAA rate (3.7 cents per point)
Sheraton Oklahoma City in Mid-June. 4,000 points per night or $182 AAA rate (4.6 cents per point) Now, you may need to adjust the value to you if you wouldn't normally stay at such hotels. E.g., if hostels are your style, better to convert your Starwood points to airline miles.
Also, if you spend $30,000 per year on the card, you will get Gold Status in Starwood's Preferred Guest program. This is good, though it is Platinum status that gives you the big benefits and that is not available through credit card spend (though you can get Hilton Diamond status via $40,000 spend on the Hilton Surpass Card).</li>
Catches
Some Starwood "Resort" properties charge a resort fee in the $10-$60 range. These are mostly in Hawaii and other resort locations. This is the one big game that Starwood plays that really angers me, but it very rarely actually affects me.
Although you can always get the last standard room for the standard amount of Starpoints for that resort, when the hotel gets very booked up, sometimes only deluxe or suite type rooms are available at a much higher amount of required Starpoints. I think some of their European properties may abuse this system by classifying a large percent of the rooms as non-standard, but generally this is not a problem.
Dave POINTS BLOG
American Express Hotel SPG Starwood
Dialogue & Discussion