Yehudiya Nature Reserve (aka Yehudia Nature Reserve)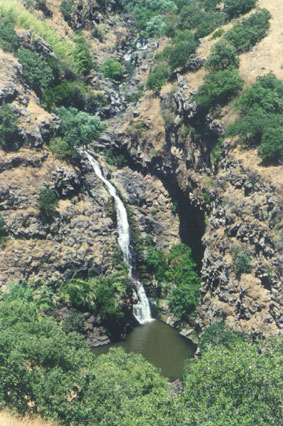 This was one of the highlights of our trip. They have hikes where you swim part of it. We first hiked over an hour in the wrong direction (it was our stupidity, the rangers were pretty clear and the maps were good), so we didn't start our real hike till quite later than we wanted. We had to cut our route a bit short, but it was still a lot of fun. The best hikes in Yehudia involve getting wet. You need to swim across a natural pool in the middle of the trail. There is no way around unless you double back.
Note:
– Try to bring a highly waterproof container for your camera (I am very sad that I couldn't bring mine) and cell phone.
– A cell phone is good to have in case of an emergency. The most popular route has a lot of hikers, so it is less of an issue but if you decide to do something less popular a cell phone in waterproof bag would be a good idea.
– Make sure to also have a backpack capable of comfortably carrying 3L of water.
– Try to wear clothes appropriate to both water and a long hike. E.g, quick drying underwear, "Water Shoes", etc. It should be hot enough that everything dries quickly.
– I saw some soldiers use rafts to carry their M-16's, so if you have something that shouldn't get wet, but don't have a big enough trash bag, try a raft.
Sorry I don't have any pictures (the one above is stock), I neglected to bring an appropriate waterproof case for my camera.
Yehudiya Nature Reserve
Yehudiya-Hushniya Road (87)
04-696-2817
Dave SUBPOST
Golan Heights Hike Israel National Parks Travel Yehudiya Nature Reserve
Dialogue & Discussion