Renaissance by Marriott – Tel Aviv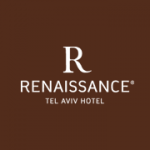 The Renaissance was a pretty nice place. Definitely worth 25,000 Marriott points, though not sure if it was worth the $275 they were asking others. It was right on Tel Aviv Beach which was great. It couldn't really have a better location. Parking fees were as expected and internet was high at $20 given that my father in law's $150 hotel gave him free wifi as do many cafes and other places in the area.
It would have been nice to have an outdoor pool like the Hilton a few blocks away. Also, be careful of prices in the hotel, for example, the mini-bar was in dollars. The prices actually looked reasonable until I saw the dollar sign. I never understood why tourist attractions can't price in local currency.
121 Hayarkon Street
Tel Aviv, 63453 Israel
+972-3-521-5555
Dave SUBPOST
Beach Marriott Renaissance Tel Aviv Travel
Dialogue & Discussion