Tamarindo and Liberia, Costa Rica
Below are lessons learned from my trip with my wife to Tamarindo Beach in Guanacaste, Cost Rica and the surrounding area. Our trip was the last week of November in 2012.
Liberia Airport
Liberia Airport (LIR) is very convenient, approximately 1 hour from Tamarindo beach without traffic and about 10 minutes from the city of Liberia. It is also super modern and almost new. The best part is that it is small, so we had no issues with lines. The biggest surprise was that it had free short-term parking about 100ft from the terminal's side door. There were two things I didn't love on the way out:
There is a $28 exit tax that is not included in major airline tickets. BA already added about $40 in taxes to my "free ticket", so I don't want to be surprised at the airport. I know, I am complaining about $28 on a free flight… Also, you pay it to one of the bank branches at the airport that charge 500.5 colones for a dollar (wholesale is 499.5 and just about every merchant in Costa Rica is indifferent between 500.00 colones and $1). No big deal, we only lost about $1, just annoying to have to leave with colones coins when you measured it all out perfectly.
The other nuisance was the cost of food after security at LIR. There was a single restaurant called players. It looked like decent food, but the charged $13 for a salad, a slice of pizza with toppings OR a turkey wrap. This felt egregious to me. I would recommend to bring your food from outside the airport.
Hotels and Hostels
Below is just a sampling of places to stay. There are tons of options. Unfortunately, it is very difficult to get a good understanding of the different options online, even with TripAdvisor since people's expectations are very different and there really isn't anything like an American suburban hotel in Tamarindo. If you want something as new and sterile as you would find in a typically Courtyard Marriott in the States, you will probably need to go pretty high end. Think European standards.
We stayed at the Best Western Vista Villas and have a detailed review here.
The Diria (+506 2653-0031) is a traditional higher end beach resort right on the water in the middle of town. They were over $100 per night and don't take points, so we didn't stay there. It did look like a very nice hotel and if you are looking for a traditional tourist experience, this is probably where you would stay.
We stopped by the Chocolate Hotel (+506 2653-1311)and met Carlos (cell: +506 8841-5338), the local partner in the hotel that was recently purchased by him and two Americans. They have dorm rooms and hotel rooms. We looked at the hotel rooms and they were pretty nice and fairly large and included a nice kitchen. Seems like some stuff was still under construction, but didn't look like a problem. This is probably where I would stay next time if I came with my wife. He was selling them for under $50, but I assume that price will go up after he is done.
If you have any interest in a hostel, this is probably the place to be. The owner, Mariana, is super, super sweet, gives great hugs and speaks great English. The place looks very clean for a hostel and she will do a private room for around $30. It is up a dirt road from the center of town, under a 10 minute walk from the beach. The owner's
sons are all surf instructors.
Directly adjacent to La Botella de Leche. Seems nice as well, but didn't spend as much time there. Emailed with their owner or manager, Mirum (cell +506 8747-8780), who seemed fairly helpful.
Also note that Playa Langosta is directly south of Tamarindo and easily accessible by car and cab (other towns require going back out to the main roads). They have hotels as well including Barceló Langosta Beach that seemed pretty popular (though I only saw it from the beach).
Ok, so you are an avid Free Travel Genius reader and have points to burn (of course!). So what do you do? Assuming those points aren't at the Best Western, you are going to need to stay outside of town.
The closest major brand is the JW Marriott Guanacaste Resort & Spa (+506 2681-2000) in Hacienda Pinilla on Langosta beach. While it is a nice hour walk from downtown Tamarindo on the beach (low tide only in a bathing suit, in high tide you need to go around), it is a 25 minute drive the way the roads run. Still, not so bad, and it is part of a private golf community (Hacienda Pinilla) nestled in Marino Las Baulas National Park.
The other option is the Westin (+506 2654-3500) on Playa Conchal a 20 minute (though further than the Marriott as the crow flies) to the north. This is an all inclusive resort. However, they claim "upgraded accommodation" and don't have any rooms for regular SPG point redemption. That is total crap, so I would avoid this hotel.
Hilton Papagayo Costa Rica Resort & Spa
There is also a Hilton on this coast, the Hilton Papagayo (+506 2672-0000) on Playa Arenilla in the Papagayo Gulf that is over an hour away. Note that the Hilton is in a protected bay. Good for swimming, bad for surfing. If you want to stay at the Hilton for free, read this post to learn how.
We also spent three nights at the Hilton Garden Inn (+506 2690-8888) at Liberia Airport. See my detailed review.
Restaurants in Tamarindo
Tamarindo has tons of options to eat ranging from traditional and very cheap Costa Rican restaurants (called "Sodas") to high end restaurants of all specialties including a lot of sushi. Note that the water is pretty safe in Costa Rica. We ordered tap water with ice at just about all of our meanl. Unless you are someplace really rural or sketchy, the water probably a safe bet.
We ate at the following places:
Best Western Vista Villas – we ate the continental breakfast each day at our hotel. See our detailed review of the Best Western
Soda Buen Comer – we had both a lunch and a dinner at Buen Comer (+506 2653-4691). It was great (assuming you like typical Costa Rican food) with wonderful staff. The lunch special is $4 including rice, beans, a plantain, a meat (a ~1/4 pound pork chop that day) and a drink (lemon-aid) that day. A humongous finely chopped salad was about $5 and a typical dinner is about $7 (not much different than the lunch, but without the drink and with a larger meat portion). Note that the place is not fancy – plastic tables under an awning with all the ambiance of a NYC corner pizza shop. We spoke to the staff (Spanish only, but the menus are translated) for a little while after. They were very nice. Three generations of family are working there. I would certainly go back.
no images were found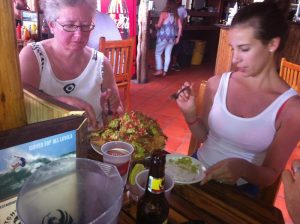 Witch's Rock restaurant – went here twice as well for their "Nachoes as Big as Your Ass" (that is actually what they call it). Witch's Rock is also an expensive surf camp.
Restaurants in Liberia
Liberia has a fair number of options, though we only tried three places. First was a local stand-up joint next to their central park. It was pretty good local fare. The next night we went to Palermo which was amazing. See my detailed review of Restaurante Palermo. Our final night in Liberia, we went to Sabor Porteno (+506 2665-6851) which was ok. See pictures from Sabor Porteno:

no images were found
</span>
Stuff to do
Surf Lessons
"Fran" (cell: +506 7026-9757) – really nice guy who's mom own's the Botella de Leche Hostel and is based out of there. Gave my wife and I a great surf lesson. It's $30 for a ~ 2 hour "group" (generally 1-2 people, up to 3) lesson (standard is $45 for 1.5-2hr). Includes the boards.
Tamarindo Fitness Center
A first world gym that is only $5 for day use. Includes fitness classes. My wife and I took a fun spin class (taught in Spanish, but it's spin, so who cares) by a very energetic young lady on pretty decent spin bikes (not super fancy gym level, but equivalent to a $50/month gym in Boston). The class was about half Ticas and half expats. We were the only short-term tourists, and, I was the only dude. Of course, when we saw they were offering a 45-minute power yoga type class right after (all part of the same $5), we stayed on. The teacher was just like the typical upper-end gym yoga teacher back home and even taught the class in English the first time since it was just a Sweedish expat, my wife and I. We came back for her Thursday class which was in Spanish, but easy enough to follow. It was a great class for me, with about 35 minutes of intense yoga then a 10 minute nap (they call it "shavasana"). They have a full weight room including a pretty generous set of dumbbells (though didn't very little ones) and various weight machines. They have a limited cardio area, maybe 1-2 of each major machine, but they usually don't seem crowded. It is about 1/3rd of a mile up a dirt road from the center of town. Locals will probably be able to direct you and it is pretty much across the street from the La Botella de Leche and Pura Vida hostels. There number is 2653-1423, but don't expect them to pick up.
no images were found
Laguna Beach Club
They rent their facility out for day use. $10/day in low season and $20 a day in high season starting Dec 1st. Includes using their nice pool and lounging around in their chairs. Also includes a nice gym, much smaller than Tamarindo Fitness, but with newer equipment and nice windows. They do yoga classes most days, but those cost extra.
Laundry
There is a wash and fold place near the center of town. Just ask people how to get there. They charged 1,000 colones per kilo which is a bit under $1 per pound for those mathematically challenged. They can do same day if you drop it off in the morning.
National Parks
There are tons of national parks in Guanacaste with all different types of hikes to do and nature to see. We only had a chance to see two. Ricon de la Vieja National Park which is a bit over an hour past Liberia Airport and Tenorio National Park which is about 90 minutes from Liberia airport but took us about 2 hours with road construction. See my detailed reviews and pictures of Ricon and Tenorio.
Cell Phones
Getting a local SIM chip in costa rica is very easy. If you are in liberia there are a few phone shops that sell SIM's in the Jumbo Super Market plaza at the corner of route 21 and route 1 (Pan American) that are open pretty late. I used a factory unlocked AT&T iphone 4 and it worked great. Don't expect Verizon or Sprint phones to be useful, they use a USA only standard.
How to use ICE Kobi
ICE is the state utility company covering phones and electric. They are the main brand so probably easiest to go with them. Don't know if their competitors are cheaper, but they sure are cheap enough. Their prepaid phone brand is "Ice Kobi". It is about $6 to buy the SIM and it comes with around $6 of phone time. Local calls are something like 6 cents and calls to the US are supposed to be under 30. Unlimited internet is about 60 cents per day for pretty good 3G speeds.
Some key things to know:
press 1150 then press: 1 to recharge balance, 2 to hear how much money you have left and 5 to change language (to english, for example
text "dia" to 6060 to get 24 hours of unlimited internet for about 60 cents. I have been told you can text "Semana" for a week of it, but that didn't work for me
Do you have experience with Movistar or any other phone companies in Costa Rica? If so, please post a comment with rates and instructions if you have them.
Key Phone Numbers
Note, Costa Rica's country code is +506. You don't dial the +506 when you are in country, but do need to dial +506 from most other countries or 011-506 from a US landline.
Emergency: 911, 117, +506 2653-0611
Fire: 118
Directory Assistance: 113
Tourist Info: 192
US Embassy: +506 2220-3939
Tamarindo Police: +506 2653-0283
AT&T: 08000-114-114
If you are going to Costa Rica and want to use your unlocked cell phone, contact me. I may still have the SIM's I used available. Currently, one full size SIM and one for an iphone 4/4S.
Have you been to Tamarindo? Have some additional tips? Please include them in a comment below to help out other readers.
Dave DAVE'S ADVENTURES
Beach Vacation Costa Rica Hiking Hotels Restaurants Tamarindo
Dialogue & Discussion