Best Western Vista Villas – Tamarindo, Costa Rica
Note that this was from our trip in 2012, some information may be out of date; at the time, $1 was apx 500 colones
Overall 4/5 (physical 3/5, location 3.5/5, view from oceanview rooms 5/5, staff 5/5)
The Best Western Tamarindo Vista Villas is situated across the street from the beach as you enter Tamarindo, Costa Rica. It is an older hotel with lots of character, great ocean views and amazing staff. They are built on the side of a hill with regular hotel rooms up top, many with amazing views of the ocean. Below they have the villas which seem about 700 square feet, though their views aren't quite as good but have huge porches to make up for it.
Wonderful employees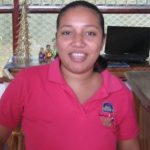 The best part of the hotel is the staff. They truly make the hotel. While I only got to know a few of the workers, I wanted to give them all a special shout-out.
Floribeth – super sweet front desk staff, our personal favorite
Alfonso – nice younger man, maybe an assistant manager
"Luna" (nickname) – restaurant server and college kid from the US working her way around Costa Rica
Trevor – General Manager from California. Move to CR 4 years ago for the good life. Find him at breakfast. Really interesting to learn about all the differences (good and bad) of trying to run a business in Tico country (hint: if you want to do him a favor, don't get seconds on the Coco Krispies – he needs to drive a few hours to resupply them).
I didn't get to know the rest of the staff as well as those above, but everyone was very helpful. Trevor does a great job in picking his crew.
Minor Annoyances
Nowhere is perfect and, of course, there are places where the Vista Villas can improve as well. I trust some of these issues will be worked on and some just make business sense.
If you lose one of their pool towels, it is a $50 fine. People may want to bring a towel to the beach and things do get stolen on beaches. Charging a reasonable replacement fee is fair. No towel that any hotel would buy costs $50. At the end of the day, this isn't a big deal, if you are checking bags, you can just bring your own towels from home. I sometimes travel with old towels and donate them at the end of a trip so I only need to carry them one way.
The water pressure in the showers is pretty low. They put on low flow shower heads to be ecologically friendly, which is good, but I feel that I take three times as long with low flow negating most of the benefit. The manager mentioned that they will be replacing the shower heads soon with adjustable ones based on a new Best Western standard, so this may improve.
Bring your own soap and shampoo. They have some type of liquid dispenser in the shower and tiny bars of soap, but they are below the typical US limited service hotel standards. No big deal since it is so easy to BYO.
The standard rooms are pretty small. Not a big deal for many people. And the villas are large.
They give you a card that says "Free Beer" with pictures of beer bottles at check-in. This is NOT a coupon for a complimentary beer at the bar which wouldn't be a crazy expectation as a marketing concept at check in of for someone with BW Diamond Status. Instead, it is a Buy 13 Beers and get the 14th free card. Beers were only $3, but it does seem deceptive to me. They should at least put some fine print on the card somewhere. I don't actually think this was intentional given how great the people there were, but they need to be clear. Look for yourself. </ul>
OceanView Room
The standard rooms are relatively small but have amazing views.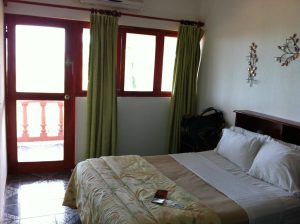 Villas
The villas are large. My guess was about 700 square feet. There is a Queen (I think) bed in the bedroom which is separated from the living room by a big window where you can close the shutters. The bedrooms have visual but not sound privacy. The living room couch is two day beds, approximately twin sized. The kitchen is a decent size with a full electric stove top, dorm room fridge and small microwave. There is also a small dining room table for four. The best part is the huge porch, though I never took advantage of it.
Restaurant
I only tried the restaurant for breakfast so I can't speak to much else. The included buffet is better than the typical continental breakfast. They usually have four types of fresh fruit (including amazing cut pineapple), a few breakfast cereals, a cake of the day, yogurt, white and dark sliced bread, jellies, butter, milk, some type of juice or juice drink, water and coffee (note I could have missed a few things).
Best Western Vista Villas
Route 152
Tamarindo
Costa Rica
+502 2653-0114
For more information about my trips to Costa Rica including restaurants and hotels in Liberia and Tamarindo, trips to the national parks, surfing and more, see my detailed Tamarindo Trip Report.
Dave DAVE'S ADVENTURES
Beach Best Western Costa Rica Hotels
Dialogue & Discussion