Unfortunately, we don't have a Wildfish in Boston nor other cities that I frequent, so Sunday (1/15/2012) was my first chance to sample their wondeful food. Even better, every Sunday and Monday night, Wildfish has their happy hour menu all night (along with certain hours on other nights). This really makes great food affordable. I happened to luck onto the menu when we arrived in the restaurant which I had been wanting to try since doing a deal with them years ago. For drinks, they offer a section of mixed drinks (such as a good, but maybe too sweet, Margarita) and pretty good wines for $5 per glass along with a fixed discount off any drink not on the happy hour menu. As good as that may sound, it was the food on the happy hour menu that really impressed.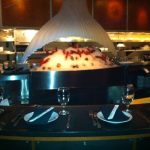 We had the Wildfish Chopped Salad with Jonah Crab, shrimp, tomato, avocado and walnuts for $12 that the chef kindly split onto two plates for my wife and I, each of which was a good size salad. We asked for the salad without remoulade (a sauce consisting most of mayo) since we don't like mayo. I was very impressed that the exposed crab meat still tasted great (I usually expect restaurants to hide lower quality food behind mayo). I also had the tar tare of Pacfic ahi tuna for $10 which was very good as well. We did make one venture off the happy hour menu by ordering the truffle mac & cheese side. We asked our server, Amanda's, advice and she said that the $5 individual portion was very substantial. And she was right.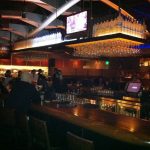 I can't imagine how much weight I would have gained if we ordered the $7 full portion. I also had the $5 El Jimador Margarita and the $5 Five Rivers Cabernet.
But maybe the best part of all was the check. $46.00 + tax & tip for two. I couldn't get half as good of a meal for twice as much at most places in Boston.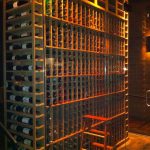 I also wanted to give extra props to our server, Amanda. She was wonderful. After realizing that my wife cared, she listed key ingredients that could offend for every dish we ordered from memory. She was also very attentive and sweet the entire night.
Read more about our trip to Scottsdale and my trip to their former sister restaurant, the Roaring Fork, the next night.
Wildfish Seafood Grill "Waterfront" complex (how a landlocked city has a waterfront still amazes me) 7135 East Camelback Rd. Scottsdale, AZ 85251 480-994-4040
Also locations in Newport Beach, CA and San Antonio, TX;
Note that Wildfish (along with EddieV's Prime Seafood) was sold to Darden Restaurants, owner of 1,900 restaurants including other upmarket chains such as the Capital Grill, Bahama Breeze and Seasons 52 along with their mass market concepts such as Olive Garden and Red Lobster in late 2011 for $59 million. Considering they have avoided destroying Capital Grill, I will assume for now that the quality will remain the same, but if they start offering free bread sticks, run!
Disclosure: Some years ago, I did business with the former owners of Wildfish related to their real estate in a different city; however, I retain no incentives to promote the restaurant.
Dave DAVE'S RESTAURANT REVIEWS
Phoenix Seafood
Dialogue & Discussion