Ajisai Japanese Restaurant – New York, NY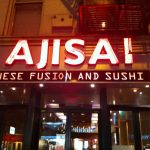 Overall: 3.5 out of 5.0 stars.
I went with my wife in November 2011. It is a pretty good Japanese place in Hell's Kitchen.
The fireball was excellent. It basically was a ball, the skin of which was thinly sliced salmon and the insides were some great mix of something that I can't explain. Their vegetable teriyaki dinner was excellent as well, it came with interesting veggies and a very sweet sauce.
The wasabi tuna roll was ok. The spicy tuna inside was of the type where you can't really taste the tuna. I didn't like the coconut chicken soup but that may have been me. I did not like their miso soup.
The service was ok, a bit slow, but otherwise fine. Went on a Friday night around 9pm and was able to sit right away.
For those from out of town, this is in Hell's Kitchen, a neighborhood with lots of good restaurants at reasonable prices. Though probably best not to approach the place from the south, the area directly surrounding the Port Authority bus terminals is one of the least nice parts of central Manhattan (though I pretty much consider the whole island relatively safe).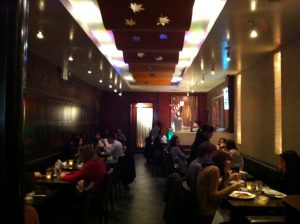 Ajisai Japanese Restaurant
Address: 615 9th Ave, New York, NY 10036
Neighborhoods: Hell's Kitchen, Midtown West
Phone: (212) 757-2688
Dave DAVE'S RESTAURANT REVIEWS
Japanese New York City
Dialogue & Discussion