A Portuguese Thanksgiving
When I lived in London, I had three flatmates: a guy from England, a guy from Germany, and a girl from Portugal. I was so excited to get to live with people from such diverse backgrounds and cultures. It was a great opportunity and I was all for it.
Cut to November of 2010.
I'm sitting in my apartment, Google Imaging the word 'Thanksgiving'.  I'm looking at pictures of turkeys – a mix of dead ones, poised on the dinner table, ready to be devoured, and happy-go-lucky cartoon birds, waving at each other, naïve and innocent.
I suddenly became a bit homesick.  America-sick.  The Brits didn't seem to see the merits of corn muffins and pumpkin pie. They didn't have a special day devoted to stuffing their faces. This left me forlorn and craving cranberry sauce. I considered making my own holiday meal, but soon remembered I couldn't cook without causing a small fire.
As luck would have it, my Portuguese roommate was half American! She understood my turkey fever and invited me to Lisbon for the holiday. I was happy to find that her family took it very seriously. The dinner was full of cheerful family members and all the Thanksgiving staples. It made me forget that I was thousands of miles away from home.
The next few days were reserved for tourism. I had never been to Lisbon before, and was immediately struck by how gorgeous it was.
Downtown —  the apartments were full of bright colors, and sweet unexpected touches.
The people looked very relaxed and happy.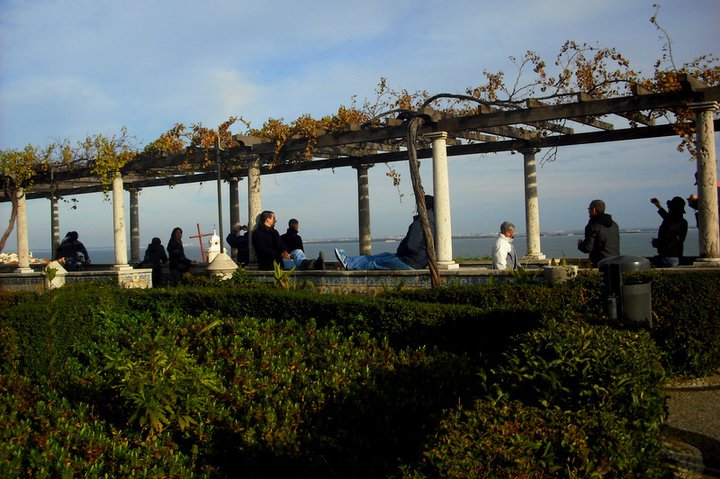 We accidentally stumbled upon a rocky abandoned area, in the middle of the city. It was covered in interesting graffiti and had mysterious little steps and narrow paths that led to more random bits of art.
Afterwards, we made our way to Alfama to visit St. George's Castle. The steps inside were narrow and steep, but the view from up high was totally worth it.
Later on that day, we walked the streets in search of gelato. We went to Santini Gelati, Lisbon's most famous ice cream shop. If you're ever visiting, you need to go there. So good.
Eventually we made our way to a village called Carnide. We ate at an amazing restaurant called Portas Verdes that served steak on a searing hot stone that you cook for yourself. It came with a big salad, a generous plate of french fries, and dips. Amazing. I highly recommend this place as well.
I only had two days to explore the city, but still managed to see so many beautiful things. If you're ever stumped on where to travel, definitely give Lisbon a go.
Reina REINA'S EXPAT EXPERIENCE
Portugal
Dialogue & Discussion