Sette Oche Ristorante – Roma, Italy
Sette Oche Risorante (Restaurant) in Rome's Trastevere district is simply amazing. To start with, walking trough the tiny streets of Trastevere at night with the romantic orange glow of the street lights is an experience itself. We did make a reservation. The few other restaurants that had enough Yelp love in Trastevere (such as Da Enzo al 29) didn't pick up their phone. I assume that restaurants around here just stop picking up their phone when they are fill. I was a little concerned when Sette picked up. Why weren't they full? Anyway, we jumped on the #160 bus from our hotel on Via Vento and were near Trastevere about 10 minutes later or so. Through a park and across a small bridge then a few more minutes and we were at Sette Oche.
We requested a table outside and got our wish. This was very much a mixed blessing. The lighting, scenery and weather were beautiful outside, not to mention the violin player. Downside is that people smoke at restaurants in Rome (at playgrounds too). I am all for accepting the culture of others, I just really wish people could avoid blowing smoke on my daughter. Other than that, everyone was very nice and (like all over Rome) very accommodating to a young child.
We ordered: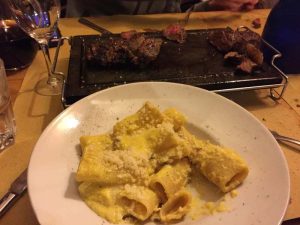 </p>
The large steak (maybe 400g). This was about 18 euros and came on a hot serving stone that continued to cook the steak. It was an ok cut but an amazing preparation. The ability to cook freshly cracked pepper into the steak just added so much to it. €18.50

The rigatoni cabonara was equally wonderful. It was a reasonable portion. The pasta was cooked perfectly and the cheese flavor was wonderful. It was a very simple dish but great. €10.50

The ravioli with spinach and eggplant was good, but our least favorite dish. It was a reasonable portion. The ravioli pasta was cooked perfectly. The vegetables tasted fresh but the flavors were relatively plain. €10.50
The caprese salad was excellent. The Bufula Mozzarella was perfect. My vegetable phobic 3 year old even was going to town on the tomatoes and tried Basil for the first time. €9.50
Neither the house red nor the house white was very good. But hey, at €5.50 a 1/2 liter, I couldn't do much better at the Supermarket.
Message to ownership:
Sette Oche, I loved your food. I humbly request that you consider enter the vanguard of Italian society and disallow smoking on your patio. 81% of Italian women don't smoke. Consider the marketing campaign.
Via dei Salumi 36
00153 Roma
Italy
+39 06 5809753
Neighborhood: Trastevere
Dave DAVE'S RESTAURANT REVIEWS
Italian
Dialogue & Discussion