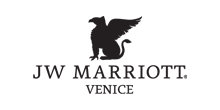 During a recent trip to Italy, I stayed at the JW Marriott in Venice. This was an excellent hotel, however, there are certain items one should know before booking.
Dining Prices & Alternatives
The restaurant prices are very high, in many cases higher than is reasonable. In our case we spent 5 days there without purchasing a single meal from the hotel. We simply self-catered our brunches and snacks and had dinner each night in Venice. The hotel will empty the mini-bar fridge upon request though note it is very small. Prices in the markets in Venice are reasonable enough (there is a "Coop" near the Rialto bridge that worked well for us) where we picked up a loaf of good bread, a quarter kilo of Parmigian cheese, small bottle of spicy olive oil, balsamic, tomatoes, water, a few bottles of wine, etc for around €50.
If you want to eat on the island here is a rundown:
– Sagra is casual rooftop restaurant for lunch and dinner. Cover is €8pp (highest that I have ever seen). Vegetarian salads are in the high teens, pastas in the high 20's, mains in the 30's and kinds meals in the low teens (not sure if cover applies to kids menu, but probably). See picture of menu below for more info.
– Room service breakfast is €24 for continental breakfast or €32 for an "American" breakfast or some cheaper ala carte options plus €8/order delivery charge. This seems pretty high even for a luxury hotel.
– I recall that the restaurant breakfast was somewhere around €35 for a buffet. I am not 100% sure but I don't think they allow for cheaper a la carte options. See picture of menu below for more info.
– Giardino is the restaurant by the family pool that is primarily used for lunch (closes too early except for the very early dinner eater). Sandwiches and tacos are around €24, salads around €20, Water is €4 and Soda is €6. Plus a cover of €3. This is probably the most overpriced option. See picture of menu below for more info.
– Doplovoro is the formal Michelin one star restaurant on the island. We considered eating there but they were sold out for the weekend nights (so they must be doing something right) and don't accept children for dinner (understandable but they should really consider including a babysitting service with the cost of the meal or a separate area for families). I'm guessing a fair amount of their diners are not hotel guests that are water taxing over from Venice. A 4 course meal is €98pp, 5 course is €130pp and a 10 course is €180 (who can eat 10 courses?). The wine pairing are €75, €85 or €130 respectively. While ~$400 US all-in for a 4 course meal for 2 is a lot, a similar level restaurant in Boston wouldn't be much cheaper. I consider this the second best value on the island. See picture of menu below for more info.
– The best value is the kids club pizza making class. Kids club is only €25/day. If they go for the pizza making class, they get to eat the apx 8″ pizza they make and have left overs for mom and dad. In addition to the total adorableness of seeing a handfull of 5-8 year olds sitting around a finely set up Italian table eating pizza and drinking out of fancy water bottles, it is the cheapest meal on the island.
Note that the room includes plastic bottles of still water and they will bring you more upon request or you can grab extras from the gym. Our room had assorted glassware and a bottle opener. There are ice machines on most floors (though not the first floor). Note that the ice machines are much smaller and slower than the typical US hotel's to go along with their petite ice buckets, but remember, this is Europe.
Elite Status
This is a "Resort". Lots of Marriott elite benefits exclude "resorts". I think this is a poor decision on Marriott's part to vary their benefits so greatly by flag and subflag. While one could say that a platinum that stays 75+ nights (or earned status other ways) at Marriotts a year should be able to remember all of the nuances, I certainly can't. So no matter how big of an elite you are with Marriott, you will not get free breakfast at this hotel. While I don't like the way Marriott sets up the program, it is not this hotel's fault, so I won't knock them for it.
In my case, I paid for a regular room on points and was given a free upgrade to a first floor junior suite. This was an especially positive surprise after reading all of the negative reviews about room upgrades from elites whining on TripAdvisor and FlyerTalk. The room was wonderful and large with a King bed, couch, table area, large bathroom and plenty of room for one or two twin beds for kids. They were also willing to put us in a more regular sized room on an upper floor with some sort of balcony, but I prefer space to views when traveling with the family. It would be unreasonable to expect any more than this from a free upgrade. Of course, they will offer to sell you upgrades as well, but this was certainly enough for us.
For a platinum gift, they have a few options including points, but for most, the half bottle of wine would make the most sense.
Kids/Family Activities
Kids Club
The kids club was excellent and a great value. It is open from 10:30 to 6:30 and cost E25 per day or part of a €39 per day package that I don't understand why anyone would buy. This was a total steal. The staff was excellent. Two of the days she was alone and there were still 2 to 3 staff members on hand. Other days she had 4 or 5 friends at times. I can't believe more people didn't use this great service. They usually did some sort of craft each day and have pizza making twice per week and cookie making sometimes as well. The only thing to know is that you are expected to STAY ON THE ISLAND while the kids are in the club. This club would be so much more valuable if you could leave a reluctant mini-sight-seer there while touring Venice. I also can't understand why they don't also sell a night option for parents that want a fancy dinner on their own.
Family Pool
The family pool was excellent. Very warm and lots of kids for ours to play with. They had a 2 foot deep section for the little ones along with a more normal depth part. The kids pool is maybe a 5 min walk from the hotel on the grounds so remember to bring some sandals. They have a seperate adult pool on the roof of the hotel. I like this as it ensures that the family pool is a relaxed atmosphere with no one getting mad that my kid is being loud. In addition to the pools, there is a splash park where the kids can run around in the sprinklers, play with large blocks, etc.
Playground
Next to the kids pool is a nice playground. Kind of looks like a mini obstacle course. Most of it is probably ideal in the 6-10 year old range.
Fitness
The gym was very good for a hotel. Well air conditioned with new Technogym equipment. The gym had free bottles of water as well. It also has showers in case you need them after check out.
You can rent bikes (or include it with the E39 package), but can't imagine biking around such a small island though would be great for a kid learning to ride without training wheels as there are certainly no cars to worry about.
The island was large enough for some nice strolls or even a short jog. There is a mix of terrain options including crushed rock, grass along with some pavement depending on what your feet enjoy.
Shuttle and Getting There
The free shuttle was very reliable. They operate 2 shuttles so that they can leave every 30 minutes for the 20 minute ride. I feel at this frequency, we can just show up and take the next shuttle without worrying about the schedule. The last one is at midnight. It holds thirty something people so there was a single time during the 5 days that we missed a shuttle because of capacity.
They have some type of free shuttle in the mornings to the train station but I don't know how that works.
Airport transfers cost €140 for a 30 min water taxi or take the free shuttle and transfer to a public water bus for €15pp for an additional 1h to 1h10min ride to the airport that leaves 2 to 3 times per hour.
Service
Service was very good, but maybe slightly less "perfect" than one would expect with, say, Marriott's Ritz flag. Most of the staff was friendly and would greet you whenever you looked in their direction. Everyone seemed willing to help. Only downsides is that they would occasionally forget requests that were called into the front desk and make some mistakes with the consumables (leaving two conditioners instead of a shampoo and conditioner type stuff). Nothing that bothered me in the least, I accept that the staff is human and would much prefer their warmth to "perfection".
Location
As stated above, the 20 minute shuttle ride is pretty convenient, however it is not the same as being able to walk out your door into the tourist attractions. On the flip side, you get tons of resort amenities and tranquility. Marriott made up a fake name for the island: "Isola delle Rose" (Island of Roses) which sounds a hell of a lot better than its real name, Sacca Sessola (Scoop Bag).
Summary
I would HIGHLY recommend this hotel, just know what you are getting into on food prices.
Dave DAVE'S ADVENTURES
Hotel Italy Marriott Travel Venice
Dialogue & Discussion