Google Wallet – Free Money?
Google Wallet Comes to Gmail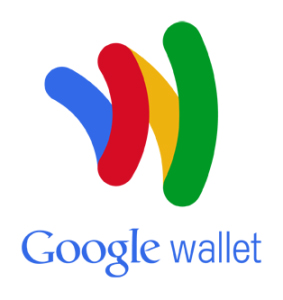 Sending money by Gmail with Google Wallet is now in the wild. Google now competes with Paypal, the granddaddy of the peer-to-peer payment model and Amazon Payments a Paypal rival that now really serves no purpose other than to help one manufacture $1,000 of credit card spending per month.
No Fee for Credit Cards (for now)
Even better, during a beta period, Google Wallet will not charge you a fee to send money by drawing on a credit card. This will allow one to pay bills (maybe their rent if the owner is hip to Google) on their credit card and end up with frequent traveler spending point bonuses. Now, Google will soon be charging a 2.9% fee for drawing the payment from a credit card, but, for now, have at it.
Of course, some may choose to manufacture spending this way by trying to pay themselves. Well, Google reserves the right to turn those accounts off and then what's the point. I'm sure they will do so quickly for the less intellectually endowed that try to directly pay themselves or send money back and forth with another person. I'm betting they will also slow things down on larger payments, say over $1,000.
So if you want to flow more money through your credit cards, to, say, hit a requirement for a signup bonus from one of the cards recommended on our homepage (such as the AMEX Business Gold Card that gives you 50,000 Membership Reward points after spending $5,000), consider the following:
Ask your landlord if you can pay your rent with google wallet
Send your roommate money for your share of the utilities.
Send all your upcoming birthday, Bar Mitzvah and wedding presents
Send your spouse some cash for putting up with you – trust me, if you are type that reads my blog (or writes it), your spouse deserves it, though not if she doesn't have her own bank account
Please Send Me a Penny
Google is using a viral invite system where you need to be given money to active your ability to send money. Remember when you needed an "invite" to going Gmail? They allow this to occur with as little as a PENNY being transferred. Seriously, only one penny will bring you into the fold.
Ok, I'll Send You a Penny
It just so happens that I have an extra dollar sitting around. Yep, that is 100 pennies. I've decided to give them to my most loyal followers first. So anyone on my email list before now is eligible. If you singed up with a Gmail address, it will be automatic. Otherwise, you should prove your loyalty by commenting on this post to let me know why you are deserving. Once you have commented, shout out to @FreeTravelG on twitter letting me know. Note: If I won't otherwise know your gmail address or you don't receive your penny within 48 hours, please email penny at free…[fill in the blank]…genius.com.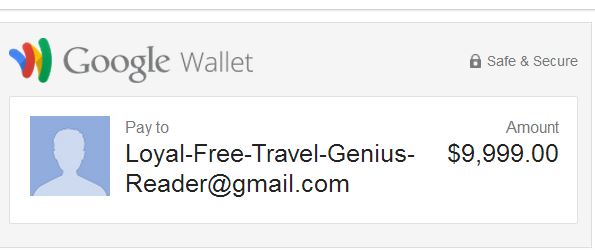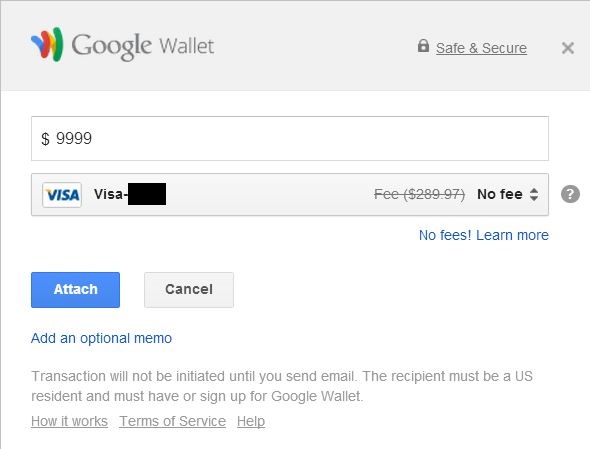 Dave POINTS BLOG
Google Wallet Spending
Dialogue & Discussion