Amex Money Back via Facebook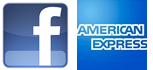 So AMEX and Facebook have teamed up with the like, link, love promotion. Basically, you like AMEX on facebook, you link you AMEX card to the application, then you pick various cash back offers. For every offer, they will ask you if you want it in your feed, but you can just say no. The great part is, you can forget about it and get surprised with money back on your credit card bill each month.
For example, I just bought a new Lenovo Thinkpad laptop (so I can blog to you from everywhere!). I had clicked on the Lenovo spend $999 and get $150 offer on facebook. I upgraded to the i5 processor, the HD webcam, the premium screen, the fingerprint reader, the 9 cell battery and a an airplane/car/travel charger kit (of course). The system retailed for about $2,000 and after two levels of sales and a coupon code, it was down about $1,010+tax, then down to $860 after the facebook rebate less $40 from FatWallet for using their link and my net was $820.
There are also various travel related rebates as well.
Dialogue & Discussion